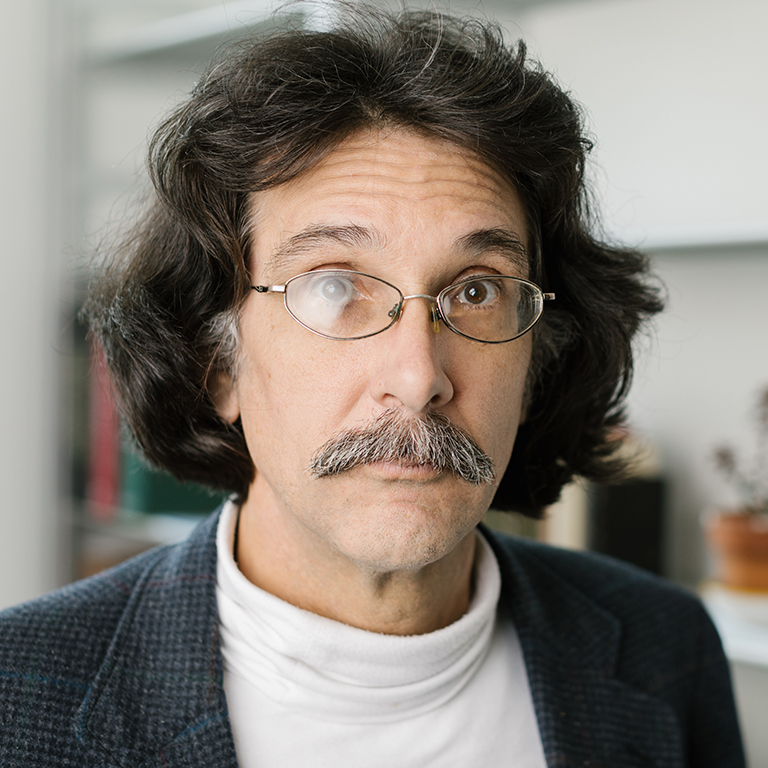 Eric MacPhail
Professor, French and Italian
Adjunct Professor, Comparative Literature
Education
Ph.D., Comparative Literature, Princeton University, 1988
B.A., Comparative Literature, University of California-Berkeley, 1983
Research areas
Renaissance literature
Humanism
Rhetoric
About Eric MacPhail
I am the editor of the journal Erasmus Studies, formerly the Erasmus of Rotterdam Society Yearbook, and I work on Renaissance humanism, both in the Latin and vernacular traditions. My current project, which I'm calling Odious Praise, deals with the rhetorical exercise of praising what others blame, including the praise of superstition and religious dissimulation, which are generally held in opprobrium. The reversal of values inherent in odious praise stimulated some of the first serious attempts at social science, including a social science of religion and politics, in such Renaissance thinkers as Machiavelli, Bodin, and Montaigne.
Selected publications
Books
Religious Tolerance from Renaissance to Enlightenment: Atheist's Progress. 1st ed., Routledge, 2019.

Dancing Around the Well. The Circulation of Commonplaces in Renaissance Humanism. Brill's Studies in Intellectual History. Leiden: Brill, 2014.

The Sophistic Renaissance. Travaux d'Humanisme et Renaissance. Geneva: Droz, 2011.
The Voyage to Rome in French Renaissance Literature. Stanford French and Italian Studies. Saratoga, CA: Anma Libri, 1990.
Articles
"Montaigne and the Theatre of Conscience," French Studies 68 (2014) 465-476.
"A Fool in Verse: Du Bellay and Erasmus," French Forum 37 (2012)1-14.
"Philosophers in the New World: Montaigne and the Tradition of Epideictic Rhetoric," Rhetorica 30 (2012) 22-36.
"Praising the Past: Novelty and Nostalgia in Machiavelli, Castiglione, and Montaigne," Romanic Review 101 (2010) 639-654.
"The Elegance of the Ecolier Limousin: The European Context of Rabelais' Linguistic Parody," MLN 123 (2008) 873-894.
"Facilis descensus Averno: Retracing Aeneas's Steps in Du Bellay's Regrets," Viator 39 (2008) 227-43.
"The Turpin Method in Comparative Context," Italica 84 (2007) 527-534.
"Erasmus the Sophist," Erasmus of Rotterdam Society Yearbook 26 (2006) 71-89.
"Optimus agricola: Nature and Culture in Renaissance Prose Theory," Prose Studies 28 (2006) 184-196.
"From Caesar to Augustus: A Note on Rabelais' Revisions to Pantagruel," Etudes Rabelaisiennes 44 (2006) 7-11.
"Synopsis and Scrutiny: A Pictorial Classification of Renaissance Literary Forms," Yearbook of Comparative and General Literature 51 (2003-04) 59-68.
"The Mosaic of Speech: A Classical Topos in Renaissance Aesthetics," Journal of the Warburg and Courtauld Institutes 66 (2003) 249-63.
"Allegare i Romani: Anachronism and Exemplarity in the Renaissance," Storiografia 6 (2002) 171-179.
"Rich Rhyme: Acoustic Allusions in Ronsard's Amours," French Forum 27 (2002) 1-12.
"Montaigne and the Praise of Sparta," Rhetorica 20 (2002) 193-211.
"The Submersion of Tradition: A Platonic Myth from Antiquity to the Renaissance," Allegorica 22 (2001) 47-67.
"Montaigne and the Trial of Socrates," Bibliothèque d'Humanisme et Renaissance 63 (2001) 457-475.
"Ariosto and the Prophetic Moment," MLN 116 (2001)30-53.
"The Plot of History from Antiquity to the Renaissance," Journal of the History of Ideas 62.1 (2001) 1-16.
"Montaigne's New Epicureanism" Montaigne Studies 12 (2000) 91-103.
"Diderot and the Plot of History," New Literary History 30 (1999) 439-452.
"In the Wake of Solon: Memory and Modernity in the Essays of Montaigne," MLN 113 (1998) 881-896.
"The Ethic of Timing and The Origin of the Novel: Speaking Too Soon in Rabelais and Cervantes," Symposium 52 (1998) 155-164.
"The Masters of Medamothi: Rabelais and Visual Prose," Etudes Rabelaisiennes 35 (1998) 175-191.
"Renaissance Foresight and the Science of History," Yearbook of Comparative and General Literature 44 (1996) 120-28.
"Don Quijote and the Plot of History," Comparative Literature 47 (1995) 289-306.
"Rabelais' Allegory of Prudence," Etudes Rabelaisiennes 30 (1995) 55-66.
"'La fuite retournée': Echoes in Du Bellay's Poetry," Neophilologus 79 (1995) 207-16.
"The Uses of the Past: Prophecy and Genealogy in Don Quijote," Cervantes 14 (1994) 61-74.
"Cyrano's Machines: The Marvellous and the Mundane in l'Autre Monde," French Forum 18 (1993) 37-46.
"Nationalism and Italianism in the Work of Joachim Du Bellay," Yearbook of Comparative and General Literature 39 (1990-1991) 47-53.
"Friendship as a Political Ideal in Montaigne's Essais," Montaigne Studies I (1989) 177-87.
"The Roman Tomb or the Image of the Tomb in Du Bellay's Antiquitez," Bibliothèque d'Humanisme et Renaissance 48 (1986) 359-72.
Book chapters + conference proceedings
Theory and Practice in 'Du pedantisme'" in Montaigne after Theory/Theory after Montaigne, ed. Zahi Zalloua. Seattle: University of Washington Press, 2009. 39-54.
"Living in the Past: Montaigne and the Critique of Novelty" in Esprit Généreux, Esprit Pantagruélicque: Essays by his Students in Honor of François Rigolot. Geneva: Droz, 2008. 247-258.
"Prophecy and Memory in the Renaissance Dream Vision" in The Force of Vision: Proceedings of the XIIIth Congress of the ICLA vol. 2 Visions in History. Tokyo: Tokyo University Press, 1995. 193-99.
"Le discours prophétique chez Du Bellay" in Du Bellay Actes du Colloque International d'Angers 1989, ed. G. Cesbron. Angers: Presses de l'Université d'Angers, 1990. 369-75.
Courses taught
Advanced Grammar
French Renaissance Poetry
Conversational French
The French Renaissance
Reading and Expression in French
French Renaissance Prose
Erasmus in Europe
Honors, fellowships,
&

awards
Andrew Mellon Fellowship in the Humanities
American Council of Learned Societies Fellowship